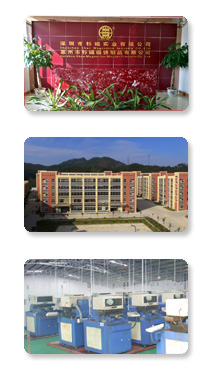 Huizhou Shan Magnetism Magnet Products Co. , Ltd. is a professional NdFeB magnet manufacturer. We build up a high quality NdFeB production line with the capacity of 1500 ton/year.The production line includes high vacuum smelter, quick-setting stove,sintering stove and advanced gas-flow mill,hydrogenated stove, basically the process contains no oxygen.Hence, the intrinsic coercive force and working temperature of our products have been improved, the maximum magnetic force of our products can be up to 52MGOe.There are wire-electrode cutting, slice, grinding etc machine and electroplating technology in our factory. So, we can design and process all specifications of the products, plated with Zinc, Nickel, Gold, Silver, epoxy and etc plating treatment according to customers' requirements.
As a member of Chinese Magnetic Materials and Devices Association (CMMDA), China electrical equipment industrial association,Shenzhen high-tech enterprise.we have passed ISO/TS16949 Certification and our products passed SGS RoHS,SGS SVHC,SGS MSDS,SGS CE Test. With superior quality, reasonable price, fast delivery and excellent service, our neodymium magnets are well sell to lots of countries and regions, such as USA, Canada, Australia and Europe etc.
We give first priority to quality of products and trust among customers, doing our utmost to satisfy our customers' requirements. And your further contact and information are sincerely welcome.

Application

Our products are widely used in aviation and spaceflight, national defense and military affairs, microwave appliance, sensors, automobile assembly, high-temp.motors, magnetic gearings, detectors, meters and instruments, medical apparatus and machine etc.