MAGNETIC ASSEMBLY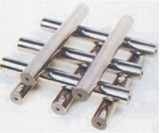 MAGNETIC FILTER

Component Part: Strong permanent magnetic tubes fixed onto a framework. When anything containing iron/steel substances passes through the framework, the iron/steel substances will attach themselves onto the wall of the bubes. As a result, your equipment and facilities will be safe and sound, and your products will be safe for consumption. Application: Model PMGL magnetics filters may apply in medicines, sanitation, textiel, machinery and foodstuffs. The filter will attract iron/steel subsatance away from liquids, form among grains or powders.
Size, Lenth and shape: Size and length of the magnetics tubes, and shape of the framework will vary at your request.


MAGNETIC BAR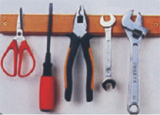 Component Part: Hard plastic bars or hard wood bars plus high quality strong magnetic pieces.
Application: Just nail the bar to the door or wall of your kitchen or room, or attract the bar to the iron or steel filing cabinet in your office, and you can attach onto it iron and/or steel things, such as screwdriver, pliers, scissors, kitchen knives, bunches of keys, beer bottle openers,...
Features: Nice appearance, convenient for application, and its magetic power never weakens.
Size and Format: Sizes and format vary at your request.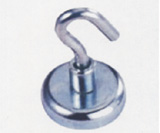 ROUND ATTRACTION MAGNET

Metal shell with neodymium magnets inside, zinc or nickel plating make the products more beautiful. The shell could be color pastic too.